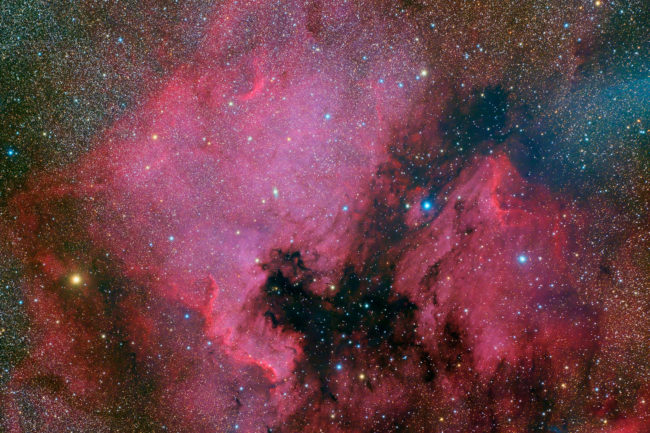 Yes, they even have their nebula… I'm not telling you where the North America Nebula is or why we call it like that, it's pretty obvious. It's identified as NGC 7000. To its right is the Pelican Nebula, IC 5067 and IC 5070. The bird is a little harder to recognize.
These nebulae represent only part of the H-alpha complex found in the Cygnus. Ionized hydrogen is found in a large part of the constellation and even beyond.
90 x 1 min
Camera : Nikon Z6 partially unfiltered
Telescope : Takahashi FSQ-106ED refractor.
Mount : Takahashi EM-200 homemade electronics.
Guiding : ZWO ASI290MM Mini on QHY OAG-M
Temperature : 7°C
Humidity : 84%
SQM : 21.4
Software : auto-guiding with PHD2, acquisition with Astro Photography Tool, processing with PixInsight.
Location : Le Serpaton, Gresse-en-Vercors
This entry was posted on Tuesday, August 4th, 2020 at 07:42 PM
You can follow any responses to this entry through the RSS 2.0 feed.
Posted in: Ciel profond, Nébuleuse