Category :
Montagne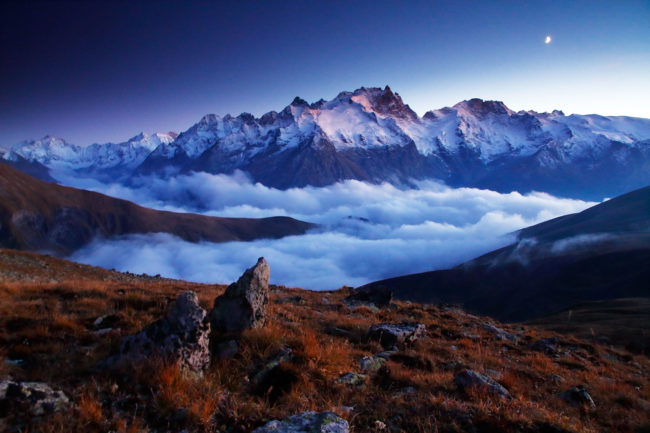 The cloud ceiling settled over the Grenoble area at the end of the morning and is not willing to move. According to the webcams, it is located around 2000-2100m altitude. So above the Vercors. We won't be able to enjoy the fog in the forest or the sea of clouds. As for the Oisans, it is rather the opposite. The morning clouds dissipate announcing a storm of blue sky.
I decide to go to Oisans. The goal is always to have a good time in the mountains, photography is secondary.
Clouds begin to form in the late afternoon. The golden hour is coming, the hour before sunset. But the light remains harsh with strong contrasts. The Sun passes through high altitude clouds before setting, there will be no beautiful colors. Too bad, it won't be for this time. It is still so good to be here, in this beautiful place, discovering a new view on this summit that I know so well.
Oh wait! After the sunset there is the blue hour, maybe something will happen again. The clouds are well up, it's a real tide now. There are still glimmers of light in the mountains and the moon is starting to come down into the frame. Finally, everything lines up…
Well, except that it's late, the exposure times are getting a little too long and I don't have the right tripod. And then I have to go back down the steep grassy slope with the headlamp and almost through the fog! Everything went well. It was Sunday evening.