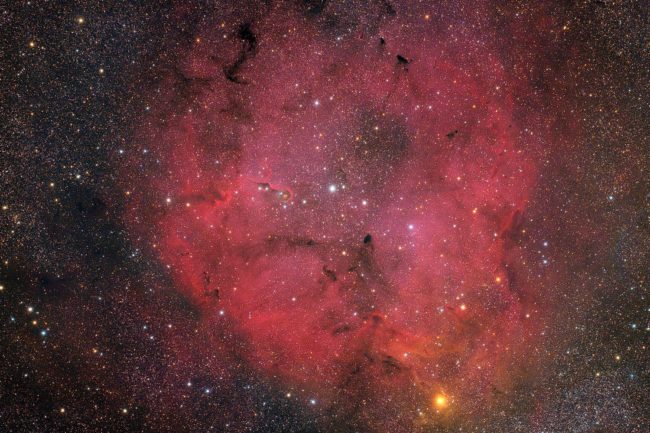 This is a fairly well known HII region in Cephea, an ionized hydrogen region. IC 1396 designates an open star cluster consisting of a few bright stars in the center of the large red nebula. The Elephant Trunk is a dark area in the nebula at the center and a little to the left of the image that vaguely resembles the pachyderm member. His official number is IC 1396A.
Finally, my Nikon Z6 is operational on the deep sky imagery. I removed his IR-Cut filter that allows the adjustment of the white balance for "normal" photos. This unfiltering gave me a hard time. It has two filters: a blue-green one that filters the infrared and a good part of visible red including the wavelength of ionized hydrogen H-Alpha, and a dust filter. Once these filters removed, I end up with a big internal light input on the sensor. I had to decide for a partial unfiltering by putting back the dust filter. Fortunately the disassembly of the camera and relatively easy.
In term of sensitivity, I'm not disappointed. The exposure time speaks for itself since I did poses of 1 minutes whereas it would have taken poses of 10 minutes with my old Canon EOS 1000D. The more we do poses, the more we reduce the noise. So I made 80 and it took only half of the night!
80 exposures of 1 minute
Camera : Nikon Z6 partially unfiltered
Telescope : Takahashi FSQ-106ED refractor.
Mount : Takahashi EM-200 homemade electronics.
Guiding : Orion Starshoot Autoguider on a William Optic Zenithstar 66SD refractor.
Temperature : 10°C
Humidity : 80% to 84%
SQM : 21.6
Software : auto-guiding with PHD2, acquisition with Astro Photography Tool, processing with PixInsight.
Location : L'Epine, Hautes-Alpes, France
This entry was posted on Friday, September 6th, 2019 at 11:32 AM
You can follow any responses to this entry through the RSS 2.0 feed.
Posted in: Non classé