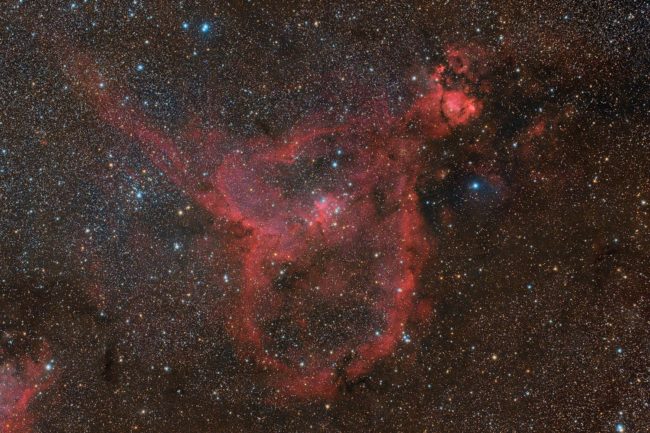 Another typical nebula of late summer. The Heart Nebula is a region HII neighbor of the Soul Nebula. In the sky, it is located in Cassiopeia, at the end of the tip of Perseus. In the galaxy, she is in the arms of Perseus, 7500 light years from us.
93 x 1min
Camera : Nikon Z6 partially unfiltered
Telescope : Takahashi FSQ-106ED refractor.
Mount : Takahashi EM-200 homemade electronics.
Guiding : Orion Starshoot Autoguider on a William Optic Zenithstar 66SD refractor.
Temperature : 12 to 10°C
Humidity : 70% to 84%
SQM : 21.6
Software : auto-guiding with PHD2, acquisition with Astro Photography Tool, processing with PixInsight.
Location : L'Epine, Hautes-Alpes, France
This entry was posted on Sunday, September 22nd, 2019 at 06:42 PM
You can follow any responses to this entry through the RSS 2.0 feed.
Posted in: Ciel profond, Nébuleuse