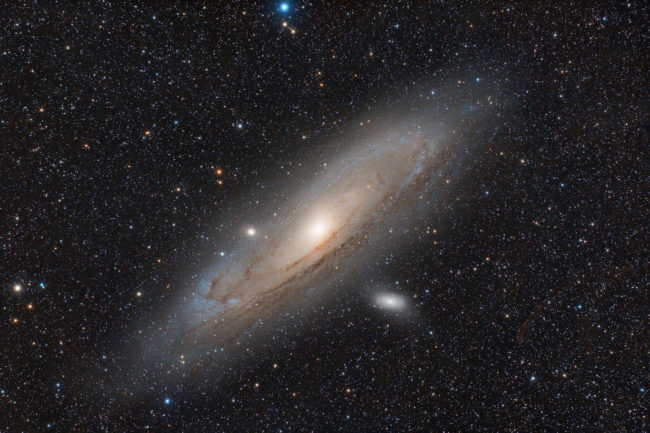 The girl next door,
The neighbor,
Great is beautiful.
Well especially in photos because, visually, it is rather a big blurry spot. I call it a big cosmic scam for newbies. The Andromeda Galaxy is the large galaxy located right next to ours just 2.5 million light years away. It is the most famous. It is the most distant object that you can see with the naked eye. So inevitably, the beginner in astronomy will quickly point his brand new telescope on it to see … a blurred spot! And then you'll see him appear on the forums to ask if he's pointed at the right place or if his telescope is out of order. No no, everything is normal, there's just nothing more to see! In fact, it is better to observe him with a simple pair of binoculars.
For this photo the acquisitions were made on the night of Saturday October 17 to Sunday 18 under rather specific conditions. 0 ° C and 100% humidity. I was wondering if it's that wet when it rains! Everything was soaked. I wiped the PC screen with kleenex. On the refractor I have a heating element to prevent due which did the job very well, to my astonishment. The Nikon Z6 refuses to recognize the fake battery that allows me to power it with a large 4S li-ion. Forcing to put the real battery on it, which necessarily limited the autonomy. At 4 a.m. it was covered with a good layer of frost. And finally, there is a flare. So I will have to redo it. Probably in 4 or 5 years, time to bring together the right conditions at the right time.
49 x 1 min
Camera : Nikon Z6 partially unfiltered
Telescope : Takahashi FSQ-106ED refractor.
Mount : Takahashi EM-200 homemade electronics.
Guiding : ZWO ASI290MM Mini on QHY OAG-M
Temperature : 0°C
Humidity : 100%
SQM : 21.55
Software : auto-guiding with PHD2, acquisition with Astro Photography Tool, processing with PixInsight.
Location : L'Epine
This entry was posted on Monday, October 26th, 2020 at 06:30 PM
You can follow any responses to this entry through the RSS 2.0 feed.
Posted in: Ciel profond, Galaxie