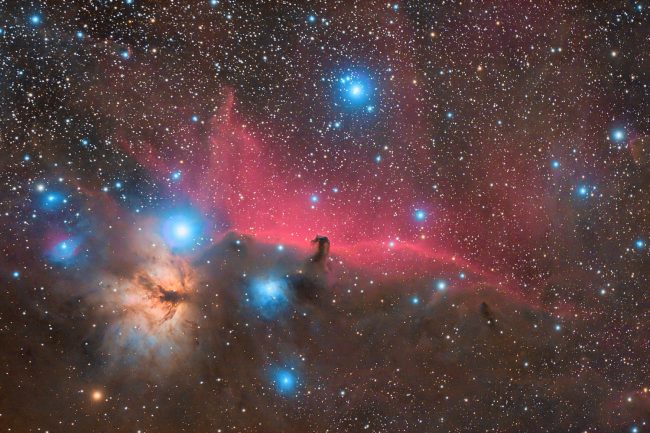 IC 434 – Horsehead Nebula
IC 434 refers to the red emission nebula in the background. The Horsehead has the number Barnard 33. It is dark nebula in front of the red one composed mainly of dust.
This is a great winter classic that I wanted to do for years. Accessible only in photo, or almost. To see it in a telescope, you need a big one, at least 400 mm diameter and a very good sky which is not obvious to have in winters when the mountain roads are blocked by snow.
The session has been interrupted by cloud at about 0h30

20 exposures of 5 minutes.
Camera : Canon EOS 1000D unfiltered
Telescope : Takahashi FSQ-106ED refractor.
Mount : Takahashi EM-200 homemade electronics.
Guiding : Orion Starshoot Autoguider on a William Optic Zenithstar 66SD refractor.
Outside temperature : -3°C to -7°C
Sensor temperature : 3°C to 6°C
SQM : 21.4
Software : auto-guiding with PHD2, acquisition with Astro Photography Tool, processing with PixInsight.
Location : Col de l'Allimas, France