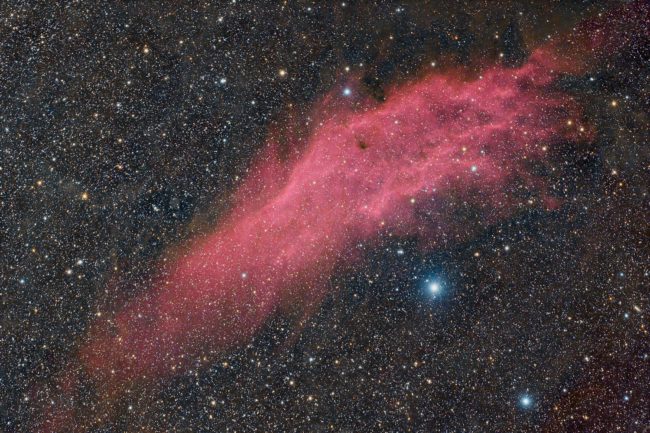 NGC 1499 – California Nebula
This HII region is in Perseus. An emission nebula, the famous ionized hydrogen. Its name comes from its resemblance to the American state. It is 70 light-years long and is 1500 light-years away from us, making it the closest HII region to the solar system.
It's not an easy to catch object since its best period for photograph it is the rainy season, the autumn, the month of November or December. I did it on September 3rd from 2am and it was still low on the horizon. So I kept only 80 of the 100 exposures I made.
80 exposures of 1 minutes
Camera : Nikon Z6 partially unfiltered
Telescope : Takahashi FSQ-106ED refractor.
Mount : Takahashi EM-200 homemade electronics.
Guiding : Orion Starshoot Autoguider on a William Optic Zenithstar 66SD refractor.
Temperature : 8°C
Humidity : 85% to 95%
SQM : 21.6
Software : auto-guiding with PHD2, acquisition with Astro Photography Tool, processing with PixInsight.
Location : L'Epine, Hautes-Alpes, France