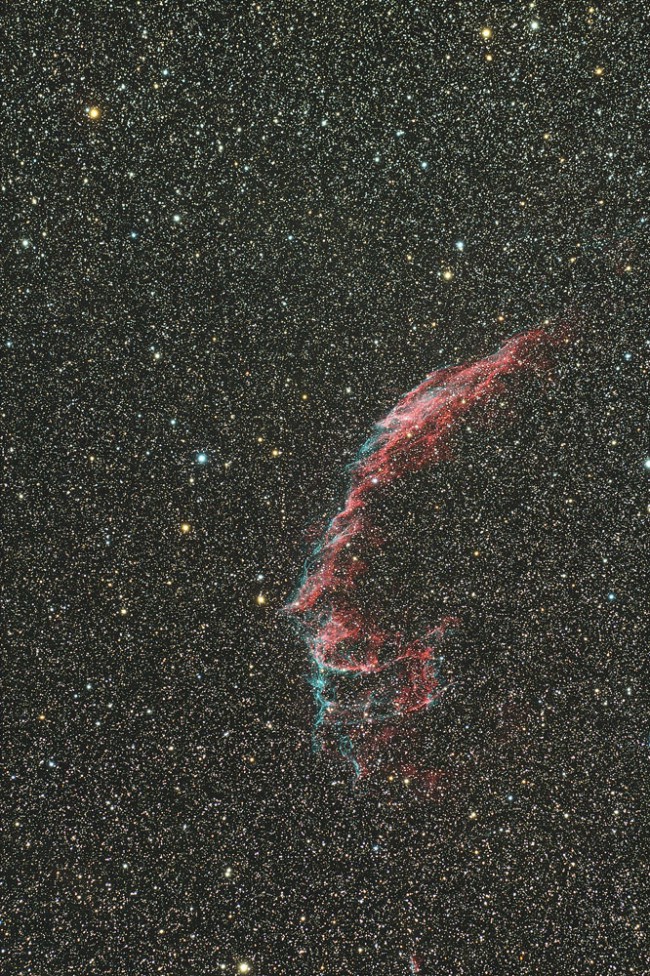 NGC 6992 – The Large Veil Nebula
Here is a part of a large nebula complex. The Eastern Veil nebula. We also call her The Large Veil nebula. La Grande Dentelle du cygne.
The Veil Nebula is a supernova remnant. Thousands years ago a star exploded there. What we see is the remains of this star. The distance is about 2000 light years.
This has been shot at Restefond, one of the best and most famous amateur astronomy spot in France. It is located at the altitude of 2600m in south-east of France.
13 exposures of 10 minutes. 8 darks, 10 flats.
Camera : Canon EOS 1000D unfiltered
Telescope : Takahashi FSQ-106ED refractor.
Mount : Takahashi EM-200 USD3.
Guiding : Orion Starshoot Autoguider on a William Optic Zenithstar 66SD refractor.
Outside temperature : 1 to 4°C, with wind
Sensor temperature : 8°C
Humidity : 75%
Software : auto-guiding and acquisition with MaximDL, pre-processing with Iris, processing with photoshop.
Location : Restefond prairies.