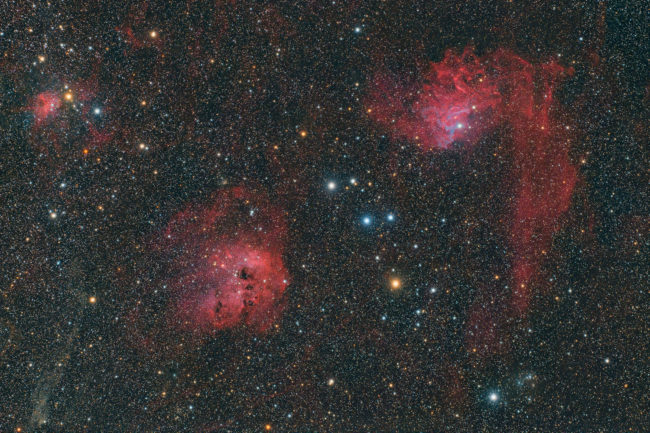 From left to right, or from smallest to largest:
– IC 417, the small Spider Nebula
– IC 410, the Tadpoles
– IC 405, the Flaming Star Nebula
Shot on December 31, 2021, about an hour before we change the year. And that's the only deep sky image of the year, a crappy weather year.
65 x 1 min
Camera : Nikon Z6 partially unfiltered
Telescope : Takahashi FSQ-106ED refractor.
Mount : Takahashi EM-200 homemade electronics.
Temperature : 7°C
Humidity : 65%
SQM : 21.0
Software : acquisition with Astro Photography Tool, processing with PixInsight.
Location : Le Plan, Col du Banchet
This entry was posted on Thursday, January 13th, 2022 at 08:59 PM
You can follow any responses to this entry through the RSS 2.0 feed.
Posted in: Ciel profond, Nébuleuse